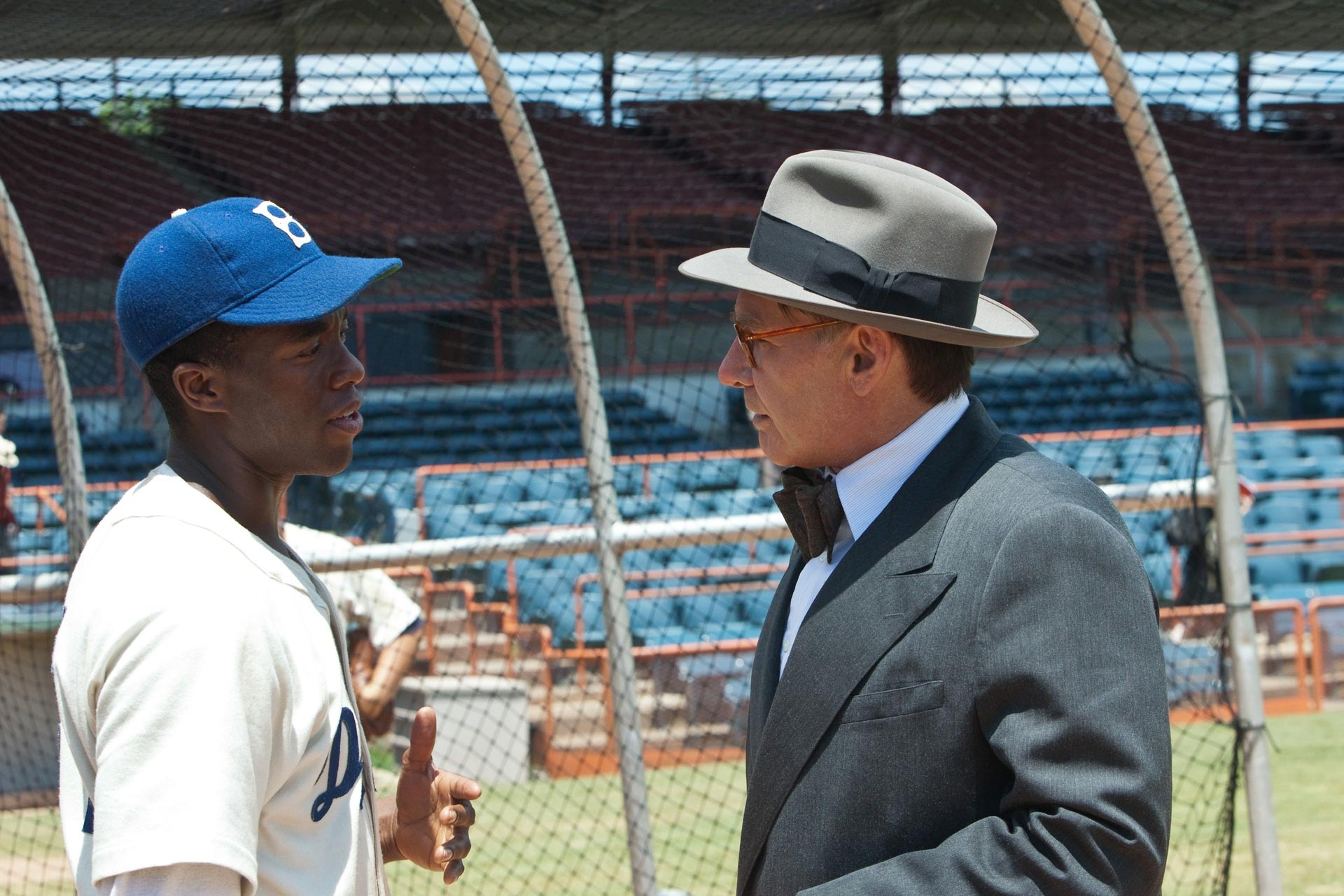 I think a Jackie Robinson/Indiana Jones super hero team would be swell
Opening -
42, Scary Movie 5, To the Wonder
(limited release)
Googan suggestion for the weekend - I'm still trying to get out and see The Place Beyond the Pines, but that's proving difficult with The Masters and some solid NBA match ups on Sunday. And as usual, Game of Thrones and Mad Men.
42
I want to marry this picture so hard
Summary - "
The life story of Jackie Robinson and his history-making signing with the Brooklyn Dodgers under the guidance of team executive Branch Rickey."
Metascore - 63
Thoughts - I feel like it's borderline impossible to make an interesting Jackie Robinson movie. I mean the guy is arguably the most hallowed American figure in history. Say a sh*tty word about him virtually anywhere and prepare to have seventeen bricks thrown at your head instantaneously (and ironically, of course). Controversy and criticism are interesting. Saintly worship is not. So I think this will fit nicely in the "Cheesy-movie-about-African-Americans-overcoming-oppression-with-help-from-a-couple-of-nice-and-ahead-of-their-times-white-people" genre. Which has yet to be recognized by Netflix stream instantly. Weird.
Scary Movie 5
If the next scene doesn't somehow involve a prison camp then f*ck this movie
Summary - "
A couple begin to experience paranormal activity after bringing their newborn son home from the hospital. With the help of surveillance cameras and various experts, they learn they're being stalked by a nefarious demon, but in a funny way. This is the Scary Movie franchise after all."
Metascore - 14
Thoughts - Laremy Legel, one of my favorite critics, has this to say about said movie: "
A hate crime against cinema, a ringing indictment of the depths commercialism will go to in search of the lowest common denominator."
Well, I think I just earned myself a round of golf.
To the Wonder
"So what, ya fack little boys and shit?"
Summary - "
After visiting Mont Saint-Michel, Marina and Neil come to Oklahoma, where problems arise. Marina meets a priest and fellow exile, who is struggling with his vocation, while Neil renews his ties with a childhood friend, Jane."
Metascore - 60
Thoughts - I've never seen a Terrence Malick movie, but few people seem to get so much credit for accomplishing... well, not so little, but, I don't know, not a ton? Whatever, I feel like he's one of the rare people that will forever be a hipster/art douche darling. Quite an accomplishment right there, I'd say.