"Knock, knock motherf*cker"
Opening - Zero Dark Thirty, Gangster Squad, A Haunted House
Zero Dark Thirty
Just a couple of SEAL bros doin' SEAL sh*t
Metacritic Synopsis - "
Academy Award-winning director Kathryn Bigelow re-teams with her "Hurt Locker" screenwriter Mark Boal for a chronicle of the decade-long search for wanted terrorist Osama bin Laden, eventually culminating in his death during a raid by the Navy's SEAL Team 6."
Thoughts - Like Lincoln, Zero Dark Thirty tells the story of a historical event that we all know the outcome of, but provides us with an inside glimpse into the inner machinations that made that outcome a reality. Unlike Lincoln, Zero Dark Thirty concludes with an *sshole getting shot in the face by a band of professional badasses.
Gangster Squad
"Wait, what do you mean, 'does it hurt when I pee?'"
Metacritic Synopsis - "
Los Angeles, 1949. Ruthless, Brooklyn-born mob king Mickey Cohen (Sean Penn) runs the show in this town, reaping the ill-gotten gains from the drugs, the guns, the prostitutes and—if he has his way—every wire bet placed west of Chicago. And he does it all with the protection of not only his
own paid goons, but also the police and the politicians who are under his control. It's enough to intimidate even the bravest, street-hardened cop...except, perhaps, for the small, secret crew of LAPD outsiders led by Sgt. John O'Mara and Jerry Wooters, who come together to try to tear Cohen's world apart. "Gangster Squad" is a colorful retelling of events surrounding the LAPD's efforts to take back their nascent city from one of the most dangerous mafia bosses of all time." (Warner Bros. Pictures/Village Roadshow Pictures)
Thoughts - Man, they really should have just called this "Generic Movie". I truly cannot comprehend how a period piece crime drama with this cast makes me feel as limp as a neutered tiger. Life, bro. F*ckin' crazy.
A Haunted House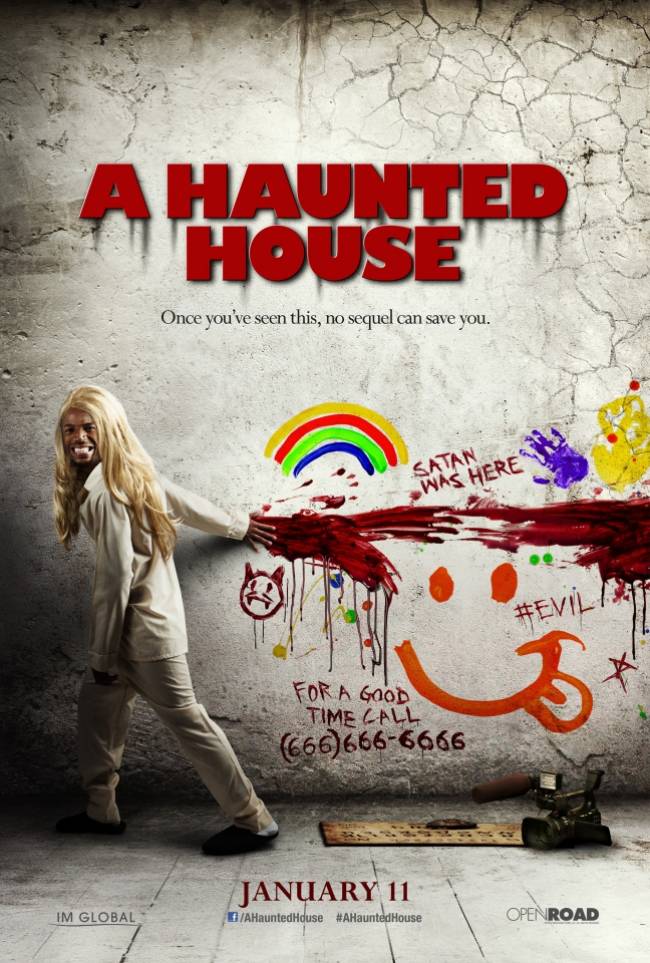 "#EVIL" Yup, seriously. Goddamn it.
Metacritic Synopsis - "
In an outrageous send up of the Paranormal Activity movies, The Devil Inside and other "found footage" movies, A Haunted House features young couple Malcolm and Kisha who have just moved in to their dream house. As they settle in, they quickly find they're not alone. But it's not the house
that's haunted, it's Malcolm's girlfriend who is possessed by a demon. Malcolm hires everyone from a priest to modern day ghostbusters to rid her of this unwelcome intruder, determined not to let the evil spirit ruin his relationship... or, more importantly, his sex life." (Open Road Films)
Metacritic Score - N/A (that means it sucks. As if you needed the help)
Thoughts - Paranormal Activity meets the crew from Mad Real World in Chappelle's Show would be a goddamn fantastic idea. This... this looks like an incomplete abortion.