"And so then I'm all like, "BOOBS!!!" What'd you guys think, pretty clever, huh?"
Listen, my feelings on the Oscars aren't t exactly nuanced. I think it's the jerkiest of circle-jerks this side of the State of the Union, an absurdly over-the-top display of pomp and circumstance in which the wealthiest of the wealthy join hands to pat each other on the ass and congratulate one another for doing a great job playing pretend for a living. So yeah, essentially the same thing as the State of the Union (ZING!). But at the same time, I love movies. And I love celebrating them with people who share that same passion. So if it means I have to put up with a bunch of monumental blowhards pretending they're important for a few hours, so be it. And hey, most importantly, it's a fantastic excuse to drink on a Sunday and make fun of people from your couch (thanks Twitter!).
I'm not going to go through all the winners and losers; you can find that all that jazz courtesy of the fine gents at Slashfilm. All you need to know is I went 17 of 24 bitches! Wait, is that even good? I have no idea. But I only saw, like, half the movies nominated, so I guess that's a testament to how brilliantly unpredictable the Oscars are.
Some brief observations:
"Hey, so the Jews and Hollywood, amirite, people??"
Seth MacFarlane - Yeah, I don't know... I wasn't really feeling it. It was like an awkward stand up set where the comedian realizes pretty early on that he's bombing and tries to recover by crapping on most of his own material. Which... is okay, I guess? I thought the delivery was fine for the most part, but the jokes, yeah not so much. But hey, it's a pretty thankless job, so I give the guy credit for going out there and doing his own thing and trying to make the best of it. He definitely gave it his all, I'll give him that (looking at you, James Franco).
Oh, and the sock puppet version of Flight was phenomenal.
Of course this happens to the one seemingly down-to-earth person at the Oscars
Jennifer Lawrence - Well, if she wasn't already a superstar, she is now. And I've been calling her since the fantastic Winter's Bone. Man, I wish there was a way I could bet on actors' careers at a young age and reap the rewards when they become household names. Is that creepy? Whatever, I don't care. Nerds, get on it.
"Alright, Cloonz, what'd'ya say we drop this boner over here and go score some Grade-A Hollywood tail?"
Argo Wins - Boy, the internet consensus about this win seems to be one big old collective shrug. Now I will never for the life of me understand how a movie can win Best Picture but the respective director of that movie can't win Best Director. Oh wait, yes I can; it's because the Academy is more political than DC during a presidential election and it's about as much a "contest" as me playing Kobe Bryant in one-on-one is. Now I haven't seen Argo so I can't comment, but when literally every single person I've heard talk about it says something along the lines of, "Well, y'know, it was just a really well-executed movie," yeah, that shouldn't win best picture in the same way The Good Wife shouldn't win best drama at the Emmy's. It's solid. Now let's leave it at that and award someone that actually put their balls and creative abilities on the line. *cough Bigelow cough*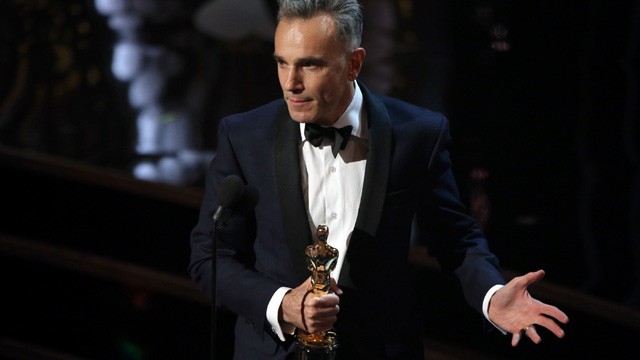 "Umm... so yeah, good try everyone else? I guess?"
Daniel Day-Lewis becomes the first actor to win Best Actor in a Lead Role for the first time. Yeah, he's pretty good. And he didn't even win for his best role ever.
So this year we'll try and catch all the nominees and actually do some real predictions and discussion come Oscars 2014, but until then, goog on y'all.
#BROLO